Art Middlekauff
Art has been a speaker at both the Living Education Retreat, the Charlotte Mason Institute Summer Conference, and many other Charlotte Mason retreats throughout the country. He leads the team at Charlotte Mason Poetry and founded the Idyll Challenge, on-line book discussion groups which encourage men and women to read Miss Mason's Volumes in two years.
Art and his wife Barbara have been home educating their three children for more than a decade. Over this time, he has been studying Charlotte Mason's writings and applying her living ideas to his family's homeschool. He tells the story of how his discovery of Charlotte Mason led to a personal transformation and a dangerous adventure.
Art has written several essays about Charlotte Mason's theology and philosophy which have been published in the two volumes of Essays on the Life and Work of Charlotte Mason, published by Riverbend Press. He has also produced a video about Charlotte Mason's twenty principles which may be obtained from Sage Parnassus. Art walks in Mason's theological tradition as a member of an Anglican church near Detroit, Michigan. You can reach Art by email.
---
Karen Canon
Seventeen years ago, Karen Canon made the acquaintance of Charlotte Mason and an immediate and profound relationship sprang up as a love for learning and fullness of life were transmitted from the 19th-century British educator to this modern-day homeschooling mom of five, ages 10 to 22. She has never looked back and is eternally grateful to Miss Mason and her colleagues for paving the way for an educational lifestyle that so resounds with the Divinely sanctioned nature and purpose of humans.
With two graduates under her belt, Karen spends her time delightedly sharing in the education and pursuits of her other three children. She enjoys reading, digging deep into the writings of Charlotte Mason, and coming alongside others to confidently live a Charlotte Mason educational life.
She speaks at Kansas City conferences and CMER and leads a local CM study group. You can visit her study group's online home at cme-kc.com.
---
Niko Lewis
Niko first heard references to Charlotte Mason when her oldest daughter attended a preschool that incorporated Miss Mason's principles into their curriculum. She loved everything she heard but didn't know how to form it into an education for her children until she began attending a local book study in 2015 that was reading through Mason's volumes. It was then that she found the support to change her family's homeschooling course and embark on the journey of growing into a Charlotte Mason education. On that journey, she is also grateful for the encouragement and joy of learning with other families as part of a co-op she joined in 2016.
---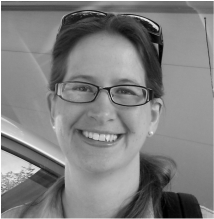 Dawn Rhymer
When Dawn was getting ready to homeschool her children, a friend shared with me a Charlotte Mason Education. Overwhelmed, she panicked and ran the other way. It would be a bumpy six-year journey back. In 2014, when a friend started a local Charlotte Mason Co-op and reading group, she finally embraced a Mason education. It took the building of community to provide the motivation she needed for the inspiration of self-education for her family. She is humbled and blessed to help others on the journey. She continues to be a part of a local community and reading group, now in their sixth year, and she is helping co-lead a group of the Women's Idyll Challenge. She also helped launch the Charlotte Mason Educational Retreat in 2016 and has spoken at the Weekend of Living Ideas and Living Education Retreat. Though she cannot quite see around the bend, which includes a move to Georgia in the near future, she is excited as she looks ahead to the future.
---
Don Rhymer
Don Rhymer is a Pastoral Intern and a student in Reformed Baptist Seminary. He's a retired Air Force officer and former Assistant Professor at the Air Force Academy, having taught Mechanical Engineering half of his 24 year Air Force career. Don is the husband of Dawn and father of 5 kids (ages 9 to 16). His family is entering its sixth year of implementing a CM-based education. When he and Dawn took a diagnostic on homeschool curricula over a decade ago, they independently pegged the meter in the survey for a Charlotte Mason educational model. The Rhymers have participated in a CM co-op and Don has been to 4 CM conferences. He thoroughly enjoyed Art Middlekauff's inaugural "Idyll Challenge", in which CM Dads read through all 6 of CM's volumes in 2 years. He continually sees CM's principles resonate with truth in so many facets of humanity, leadership, homelife, and any form of education.
---
Jennifer Taylor
Jennifer discovered Charlotte Mason when her oldest child was about to begin kindergarten. With a rewarding career as a public school educator, homeschooling had never entered her mind. Mason's works so inspired her that she was convinced to home educate her three children. She has spent the last ten years awakening to the rich life a Charlotte Mason education offers. In 2013, Jennifer founded Aspen Grove Educational Community out of a desire to inspire and encourage others in Mason's philosophy. Today, this small, yet intimate community consists of a multi-age co-op, a monthly book study group, CM in the Rockies, and the Charlotte Mason Educational Retreat. Jennifer also provides CM educational services to include evaluations and consultations at www.asacrededucation.com. Jennifer holds a B.S. and M.Ed. from Milligan College. She lives with her husband, Gary Alan, and three children amongst the beautiful Rocky Mountains in Monument, Colorado.
---
Rebecca Zipp
Rebecca was first introduced to Charlotte Mason in 2013 after exploring other educational philosophies and knew immediately that this was what she wanted to for herself and her children. She enjoys the freedom found in a Charlotte Mason education and the fact that it not only nourishes the minds, hearts, and souls of her children, but hers as well. With a degree in art history, she also appreciates Ms. Mason's emphasis on exposing children to fine art. She currently lives in Colorado with her husband, their two children, three cats, and whatever bug/amphibian pets her kids have adopted. She also writes at her website, a humble place.